New Release: 9 Novels of Love for 99 Cents!
I'm so excited to announce that eight incredibly talented authors and I have been working together to create this beautiful collection of love stories!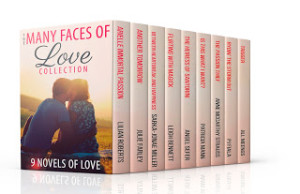 Out sooner than anticipated, The Many Faces of Love Collection from Booktrope is now available!
The ebook collection features 9 novels about love, from heartbreak to happily ever after. Don't miss your chance to get this long-awaited collection for only 99 cents on Amazon!
Praise for the Authors
"In this honest and thoughtful exploration of a marriage coming undone, author Patricia Mann offers no easy solutions. Instead she takes us into the heart of what love and family is all about and reminds us there is no one-size fits all. A thoroughly satisfying read." – Eileen Goudge, New York Times Bestselling Author
"This novel was very daring, dashed with forbidden romances and served with a great amount of hatred, revenge, and regrets… Sefer entertains the readers with a series of entanglements that gives the novel a chilly air of suspense. She shocks the readers with the cruelty of the acts of violence that occur within supposedly bold Greek families where pride, tradition, and legacy is revered. The message on forgiveness and maintain strong family bonds despite conflict and tragedy is what really makes the novel spectacular and heartwarming." – San Francisco Book Review 
"I do not know where to start with this book, except to say that I loved it!" – Lustful Literature
"Jan, the much lovable yet so far from perfect anti-heroine of this refreshing novel, seems to be plumbing new depths at each turn of the page, as her fairy-tale like, easy going world gradually crumbles around her… Revivifying and fun… this novel is a comforting reminder that it isn't all that easy to be a young woman discovering that most of the time the only prince charming who can save us is our own little selves." – San Francisco Book Review
"Meengs has a descriptive yet eloquent style that illuminates the adventures of the characters in Trigger… there is just enough clandestine spy, European romance, mystery and self-discovery to make Trigger a very intriguing read." – Christina B. Steele, Readers' Favorite
"Julie is a beautiful writer with a warm heart and this is evident from page one of book one and it flowed through to Another Tomorrow." – Whairigail Adams, All Things Books
"Lilian Roberts has an almost poetic way of writing… There was this lovely flowing way about the words that I haven't seen in sometime. This book is definite MUST read and you don't have to love paranormal stories to read it." – Joe Cool Review
"The Passion Thief is an excellent story of finding one's self amidst the chaos of life. As we age, for women in particular, all of the variables in life that are beyond our control seem to culminate, leaving us to question where our priorities lie. While it is a work of fiction, the book is a testament to that. If anything, the book serves as a cautionary tale that the grass is not always greener on the other side." – San Francisco Book Review
About the Many Faces of Love Collection
The Many Faces of Love Collection includes 9 novels of heartbreak, passion, true love, and everything in between. Featuring: